৭ জানুয়ারী ২০১৫ এ অনুষ্ঠিতব্য বাংলাদেশ আরবান ফোরামে এর স্টিয়ারিং কমিটির ২য় সভা স্থগিত ঘোষণা করা হয়েছে। পরবর্তীতে সভার সময় সকলকে অবহিত করা হবে।
বাংলাদেশ আরবান ফোরামে এর স্টিয়ারিং কমিটির ২য় সভা আগামী ০৭ জানুয়ারী, ২০১৫ খ্রি: তারিখ রোজ বুধবার বিকাল ০৩ ঘটিকায় স্থানীয় সরকার, পল্লী উন্নয়ন ও সমবায় মন্ত্রণালয়ের দায়িত্বে নিয়োজিত মাননীয় মন্ত্রীর সভাপতিত্বে অত্র বিভাগের সম্মেলন কক্ষে (কক্ষ নং ৬০১, ৭ম তলা, ভবন নং ০৭, বাংলাদেশ সচিবালয়, ঢাকা) অনুষ্ঠিত হবে।
উক্ত সভায় সংশ্লিষ্ট সকলকে যথাসময়ে উপস্থিত থাকার জন্য নির্দেশক্রমে অনুরোধ করা হ'ল।
আলোচ্যসূচী:
১. পূর্ববর্তী সভার অগ্রগতি আলোচনা ও অনুমোদন
২. বাংলাদেশ আরবান ফোরাম এর জন্য প্রণীত বিজনেস প্ল্যান সম্পর্কে আলোচনা এবং সিদ্ধান্ত গ্রহণ।
৩. বাংলাদেশ আরবান ফোরাম সচিবালয়ের বিজনেস প্ল্যান ও আন্ত:মন্ত্রণালয় স্টিয়ারিং কমিটির সিদ্ধান্তনুযায়ী কার্যক্রম পরিচালনার জন্য ব্যবস্থাপনা কমিটি গঠন এবং দায়িত্ব প্রদান।
৪. বাংলাদেশ আরবান ফোরামের ২য় জাতীয় সম্মেলন অনুষ্ঠান সম্পর্কিত অগ্রগতি পর্যালোচনা এবং
৫. বিবিধ।
মো: খলিলুর রহমান
উপ-সচিব
ফোন: ৯৫১৪১৪২
email: This email address is being protected from spambots. You need JavaScript enabled to view it.
As 2014 comes to a close, I would liken it to us coming to the end of a good book and I want to express my heartfelt thanks for your support at World Cities Summit 2014. Strategically held in conjunction with the Singapore International Water Week and CleanEnviro Summit Singapore in June, we scaled new heights in attendance with over 20,000 international and local participants, including a record number of 128 mayors and city leaders.
Top leaders and eminent representatives from the public and private sectors shared their perspectives on common challenges faced by cities globally, and insights on innovative integrated urban solutions. Participants were able to network with city leaders and global experts in urban planning and implementation, water and environmental management. We cannot achieve success without our partners and sponsors who contributed to the discussion, participated in the exhibition, and co-located some of their key corporate events with us to add to the buzz throughout the week.
In the coming year, the discussion on pressing urban issues and sharing of best practices will continue at the World Cities Summit Mayors Forum, an annual by-invitation only global event from 8th - 10th June 2015 in New York City - the 2012 Lee Kuan Yew World City Prize Laureate.
As we turn over the last page on this year, like with any good book, we hope you look forward to the sequel as much as we do. Stay connected by updating your details to receive the latest news on the urban solutions industry and updates on the next World Cities Summit, 10th - 14th July 2016.
On behalf of World Cities Summit, I wish all our partners and participants a joyous festive season, and a great year ahead filled with peace, good health, productivity and prosperity.
Larry Ng Lye Hock
Managing Director
World Cities Summit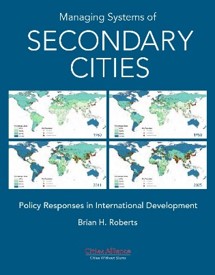 The Cities Alliance is pleased to announce a major new study "Managing Systems of Secondary Cities: Policy Responses in International Development".
Written specially for Cities Alliance, this book investigates the role secondary cities play in the development of global regions and nations. It includes:
A literature review and redefinition of secondary cities
A discussion of trends, influences and challenges facing secondary cities
15 regional case studies showing how developing countries have approached urbanisation and decentralisation in support of secondary cities
Contact:                                                             
This email address is being protected from spambots. You need JavaScript enabled to view it.
www.citiesalliance.org
http://www.unops.org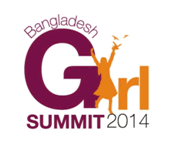 Dear  All,
Greetings! We are pleased to inform you about the Bangladesh Girl Summit 2014 that will be held on 27 October 2014Monday (9.00 AM- 4.30 PM), at the Osmani Memorial Auditorium Dhaka, Bangladesh. The theme of the summit is "ending child marriage and empowering girls". We recognize the importance and power of community members and structures to drive social change for girls - including the importance of engaging men and youth.
We cordially invite you/your organization to attend the event and request you to block your time.
Your valuable commitment and support will encourage taking action in ending child marriage and building brighter future for girls.
Details programme schedule and invitation will be sent within a short time.
On behalf of Bangladesh Girl Summit 2014 Organizing Committee
Habibur Rahman
Program Head,
Gender Justice & Diversity Division,
BRAC
James P Grant School of Public Health at BRAC Institute of Global Health (BIGH) in partnership with BRAC Institute of Governance and Development (BIGD) at BRAC University, International Centre for Diarrhoeal Disease Research,​Bangladesh (icddr,b), and policy think tank Power and Participation Research Centre (PPRC) are planning to deliver the second 'Urban Health and Governance' short course for 2014.
The course aims to sensitize mid and senior level decision-makers about alarming trends impacting urban health, their implications for national and human development, and the urgency for multi-sectoral action that addresses complex root causes, and functional systems of governance for health.
The short course in 2013 was a great success, utilizing a variety of teaching methods, including lectures, interactive sessions, group work and a field trip to a nearby urban slum to increase sensitivity to the complexity of factors affecting urban health. Participants came away from the course reporting that they had improved their knowledge regarding urban health and governance issues, and were better enabled to effectively advocate for the health and rights of the urban poor at both an individual and organizational levels.
We believe that this year's course will also benefit participants in the same manner, and we would therefore invite you to nominate representative(s) from your institution to participate in this 4-day short course. The details of the short course are as follow:
Date
28 - 31 October, 2014 (4 days)
Time
9: 00 a.m. to 5:00 p.m.
Venue

James P Grant School of Public Health, BIGH,
BRAC University (located at icddr,b)
5th Floor (Level-6), icddr,b Building.
68 Shahid Tajuddin Ahmed Sharani,
Mohakhali, Dhaka-1212, Bangladesh.
Attached is a copy of the course flyer for your further information. The deadline for the applications is 23 October,​ 2014. Around 25-30 participants will be selected on a competitive basis. We strongly encourage you to apply as early as possible.
Please also share this invitation with your colleagues and organizations who might be interested in the course.
Should you have any further inquiries, kindly contact Tapas Mazumder at This email address is being protected from spambots. You need JavaScript enabled to view it. or+880-2-9827501-4 Ext. 6032.
We look forward to receiving application from your organization.
Kind regards,
Centre for Urban Equity and Health,
James P Grant School of Public Health,
BRAC Institute of Global Health,
BRAC University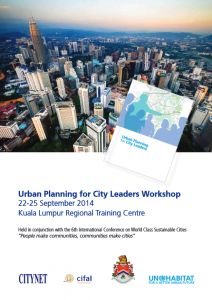 Kuala Lumpur Regional Training Centre, Malaysia.
This short training workshop organised by Kuala Lumpur City Hall, CityNet and UN-Habitat, will introduce urban practitioners and decision makers to UN-Habitat's fundamentals of sustainable urban development. Through problem-based learning and real life case studies, participants will discover how to optimize infrastructure, leverage density and cluster for competitiveness. Held from 22-25 September in Kuala Lumpur, participants will also enjoy access to the highly regarded World Class Sustainable Cities Conference.
Information on the workshop content, target participants and sponsorship arrangements can be found in the Workshop Program.
Please apply online before August 16th 2014, 23.00 Korea Standard Time.
More info here.
Dear Colleagues,
This is our great pleasure to congratulate you for being elected as Chair and Co-Chairs of BUF Clusters respectively. In the ongoing institutionalization process of BUF, it is a very significant achievement on way to our collective approach towards urban development in the country. We also share the list of Chair and Co-Chairs of all Eight Clusters below.
Cluster
Meeting Schedule
Organizations
Cluster Chair
Co-Chairs
Children, Women, Youth & People with Disabilities
Monday, 24 Feb 2014
10:00 am – 12:00 pm
· UNICEF
· Save the Children
· BRAC
Economic Development & Poverty Alleviation
Monday, 24 Feb 2014
03:00 pm – 05:00 pm
· BRAC
· UNDP (Poverty Reduction Cluster)
· Care Bangladesh
Environment, Climate Change & Disaster Preparedness
Tuesday, 25 Feb 2014
10:00 am – 12:00 pm
· UNDP (Environment and Climate Change Cluster)
· Urban Development Directorate
· Bangladesh Institute of Planners (BIP)
Human Resources Development
Tuesday, 25 Feb 2014
03:00 pm – 05:00 pm
· Bangladesh Association for Social Advancement (BASA)
· Rotaract Club of Baridhara
· ASD (Assistance for Slum Dwellers)
Land, Housing and Services
Wednesday, 26 Feb 2014
10:00 am – 12:00 pm
· UN-Habitat Bangladesh
· WaterAid
· World Bank
Urban Planning, Infrastructure & Transport
Wednesday, 26 Feb 2014
03:00 pm – 05:00 pm
· Bangladesh Institute of Planners (BIP)
· World Bank
· Centre for Urban Studies (CUS), Dhaka
Urban Policy and Governance
Thursday, 27 Feb 2014
10:00 am – 12:00 pm
· DFID
· UNDP (Poverty Reduction Cluster)
· Care Bangladesh
Social and Cultural Development
Thursday, 27 Feb 2014
03:00 pm – 05:00 pm
· World Vision
· BRAC
· Manabik Sahajya Sangstha (MSS)
As subsequent step, we wish to have the Core body meeting consisting of the Cluster Chairs as early possible for our ways forward. Meanwhile as you were requested, please send us your cluster specific TOR in Bangla in SutonnyMJ font (within 2 weeks from the date of the introductory meeting).
We take this opportunity to request for your Cluster's contribution through news/articles on urban aspects to the forthcoming issue of BUF quarterly Newsletter by 10 March 2014 and also invite all the organizations to 'Like' Bangladesh Urban Forum Facebook page at https://www.facebook.com/BangladeshUrbanForum.
Bangladesh Urban Forum Secretariat
Please send your contribution in the suitable form of write up, images etc. to help the BUF Secretariat accomplish the plan for the publication satisfactorily. Please find below more information for sending your contribution while downloading the previous issues clicking on the link http://bufbd.org/resources will help you to understand the contents of newsletter.
Last Date of Sending Contribution to This email address is being protected from spambots. You need JavaScript enabled to view it.:
Thursday, 14 November, 2013
Format of Write Up:
Language: Bangla.
Composed in MS Word Document using SutonnyMJ Font (Size 14).
Please send JPG files for any images used in the Word File.
Tentative Date of Publication:
Government has formed a high level Inter-Ministerial Committee for institutionalization of the Bangladesh Urban Forum (BUF) through an office order dated 31.05.2012.
The office order is given below. Please also find a translated version in English.